Micronutrient Testing
Research has shown that 50% of people taking a multivitamin are still functionally deficient in one or more essential nutrients that are vital to long term health. Vitamin, mineral, and antioxidant deficiencies have been shown to suppress immune function and contribute to chronic degenerative processes such as arthritis, cancer, Alzheimer's disease, cardiovascular disease and diabetes. The micronutrient test measures how micronutrients are actually functioning within your lymphocytes (white blood cells). These tests allow a nutritional assessment for a broad variety of clinical conditions and disorders.
Since lymphocytes are produced in the bone marrow and stored in peripheral locations for long periods of time (the average life span of a lymphocyte is approximately four to six months), micronutrient testing provides a powerful portrait of your long-term nutrient status.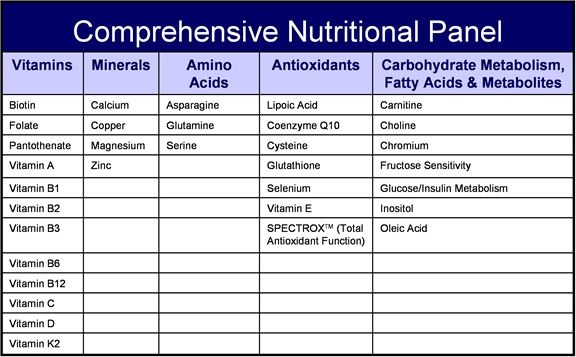 The potential for clinical benefit is particularly evident in these patient groups:
DISEASE THERAPY AND MANAGEMENT: Diagnose and treat nutritional risk factors that contribute to the therapy/management of many degenerative disease conditions.
FAMILY HISTORY: Provide prevention measures for patients with family history of common chronic disease conditions.
HIGH RISK GROUPS: Certain high risk groups are more susceptible to vitamin, mineral and antioxidant deficiencies that can affect treatment outcomes and overall health.
PROACTIVE RISK ASSESSMENT FOR ATHLETES: Provide customized prevention by early detection of nutritional deficiencies for proactive patients and athletes.
CHALLENGING CASES: Gain insight into generalized complaints with no apparent specific disease source and provide treatment options based on biochemical individuality.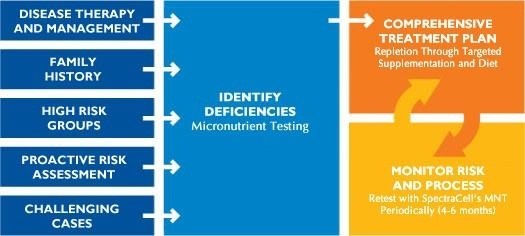 "Although the clinical syndromes of vitamin deficiencies are unusual in Western societies, suboptimal vitamin status is not. Because suboptimal vitamin status is associated with many chronic diseases, including cardiovascular diseases, cancer, and osteoporosis, it is important for physicians to identify patients with poor nutrition or other reasons for increased vitamin needs."
-Journal of the American Medical Association, June 19, 2002- Vol 287, No. 23, pg. 3124